International
Ballroom and Latin Dancing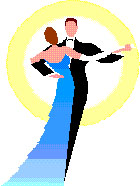 Craig Hanlin
C.D.T.A. L.M. B.B. F. L.A. I.D.T.A. A. B.B.
World Standard 10-Dance Instruction
- Private and Group Instruction -
- All Levels - All Ages -
- Coaching - Choreography - Competitors -
- Medal Exams -
- Teacher/Staff Training -
- Examiner/Adjudicator -
In the Greater Toronto Area:
416-880-2578
EMail:
craigshanlin@yahoo.com
CHA CHA CHA SAMBA RUMBA PASO DOBLE JIVE
WALTZ TANGO FOXTROT VIENNESE WALTZ QUICKSTEP
Social Dances are fun to learn, too!
Mambo, Merengue, Salsa, and others, as well as American Style Ballroom and Latin.
Wedding Couples and Parties are Most Welcome!
Inquire about a Wedding Package designed for you!
Private lessons or semi-private lessons are a great way to get you and your wedding party ready to DANCE at that fabulous event.
For you and your significant other (or your entire wedding party), a specialized wedding dance can be choreographed to suit your needs.
If you would like to be on my Mailing List to receive dance-related information and upcoming class schedules, please email me your contact information. Your information is not shared with any other source.
craigshanlin@yahoo.com
Locations:
Click Here:

International Ballroom & Latin Dance Studio: Kenmore/Buffalo Area
Click Here:

Toronto and Other Locations
Click Here:

About Ballroom and Latin-American Dancing
Click Here:
About Craig and General Information
Click Here:
Dance-Related Websites, Contacts, and Other Helpful Information
Click Here:
Ballroom & Latin Dance Instruction by Craig and Popi:
World Standard 10-Dance Couple: Show Performances, Weddings and Wedding Choreography:
Private and Group Instruction
Click Here:

Frequently Asked Questions
Click Here:

Photo Gallery
Click Here to Return to the
Home Page